Hopmaster brewhouses from Portland Kettle Works in sizes 3.5 BBL to 10 BBL will meet the requirements of craft brewers around the world.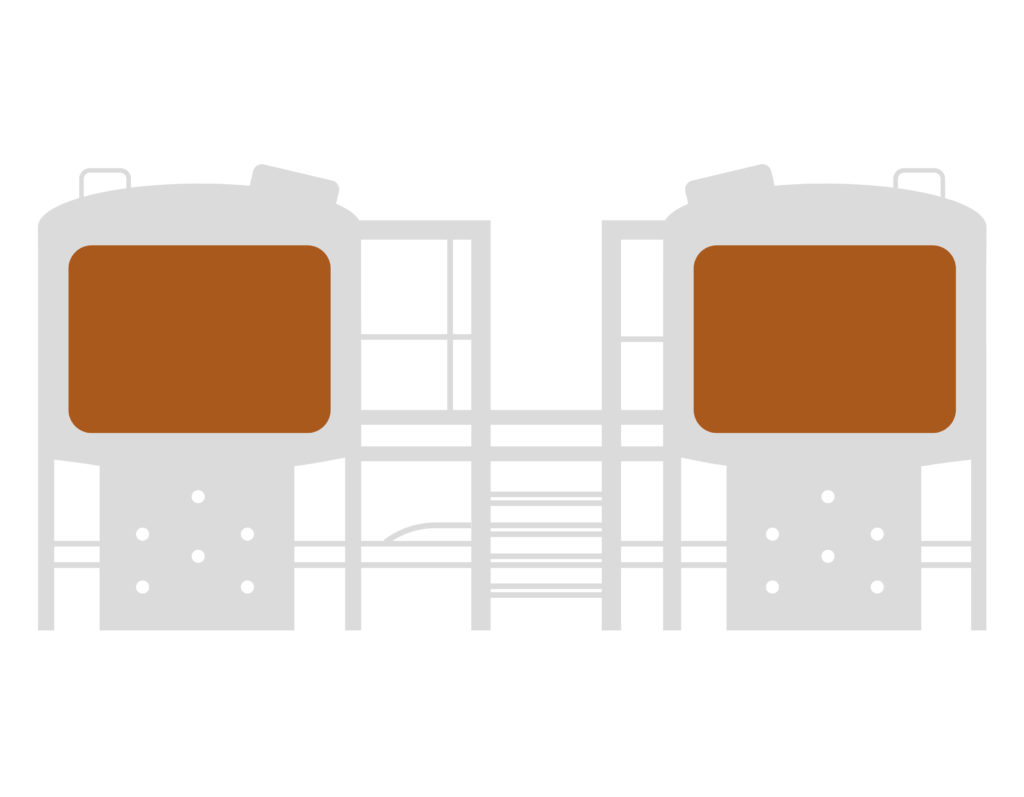 PKW Hopmaster brewhouse designs are based on our experience in developing more than 4,000 craft beverage containers, as well as launching more than 375 new breweries around the world since 2011. Our clients enjoy award-winning results in all styles of beer worldwide.
All PKW Hopmaster brewhouses include these high-performance features that make your production day easy and enjoyable:
KettleMaster AUTOMATION PLC/HMI controls that store recipes for exact repeatability
Standard modular skid for easy of transport and installation
Minimum 140% Brew Kettle Capacity
Industry leading geometry that allows for high efficiency brewing across every style of beer
Skid mounted on casters designs on a standard standard 2 vessel platform
Standard Swing link manifolds
Standard Internal steam clandrias
Variable Speed Pump(s) controlled by Lenze Variable Frequency Drives (VFD's)
Standard Clean-In-Place CIP facilities in all vessels
High-performance Lauter Tun Screens
Integrated and intuitive sanitary piping
Convenient
working height from floor grade
Open top Brew Kettle
User-friendly sample ports
Integrated pump and plate chiller loops
High accuracy flow meters and automated shut off systems
Portland Kettle Works brewhouses have earned a reputation as some of the best performing, efficient, and eye-catching brewhouses to be found anywhere. Our breweries will shorten your day and save you money for years to come.
Portland Kettle Works' brewhouses provide brewers with several key advantages:
A worldwide reputation for industry-leading American design, engineering and fabrication
Built with and tested by some of America's leading craft brewers
Environmentally friendly and energy saving
Save Time and Labor
Ergonomics and Safety
PKW Brewhouse Specifications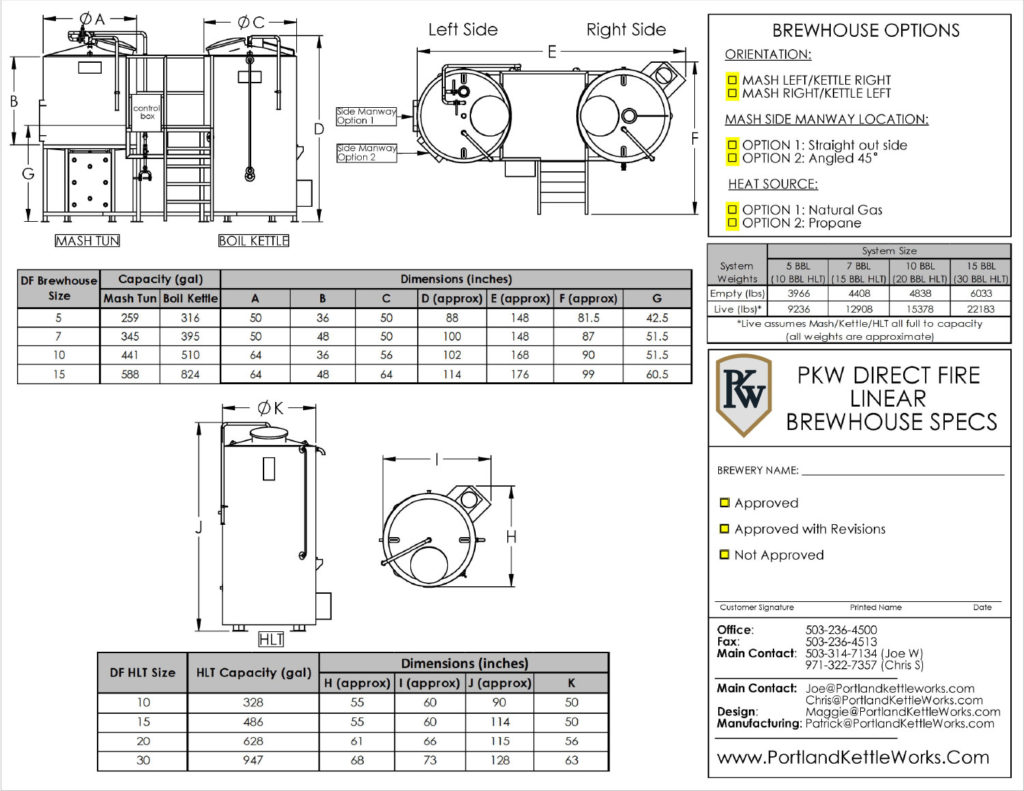 PKW Hopmaster Brewhouse (3.5 to 10 bbl) Spec Sheet (Click to download)
As with all our brewing equipment, Portland Kettle Works brewhouses are designed and manufactured to exacting standards:
Standard capacities available:
bbl: 3.5, 5, 7, 10
hL: 4.1, 5.9, 8.2, 11.7
Other capacities available upon request
Environmentally-friendly and energy-saving features:
Extra-large capacity hot liquor tank (HLT) for ample storage and recovery of hot water in the brewery so that none of your heated water goes down the drain
Convect-O-Matic proprietary internal calandria on the HLT continually agitates the HLT contents resulting in a consistent liquor temperature throughout the vessel without the use of an expensive and maintenance intensive pump
State-of-the-art energy efficient motor drive systems are installed on every brewery pump motor reducing overloading and optimizing energy consumption to the pumping task
Every brewery tank is insulated keeping the heat where it belongs, in the brew, not in the atmosphere
99% evacuation of evaporate from the brew kettle results in lower humidity and heat load in the brewery
12V LED lights are provided on all lighted elements for reduced energy consumption
Time and labor-saving features:
Oversized HLT equates to zero downtime when double batching, running CIP, or performing keg cleaning operations
Kettles and brew deck frame fabricated from 100% certified 304 food-grade stainless steel
3-piece modular design for easy installation in almost any space
Brew kettle includes integrated whirlpool
Brewhouses are pre-wired, pre-piped and pre-tested for easy shipping, rigging, installation, and startup
Steam configurations fired by either electric or gas-powered boilers (direct fire options available)
All steam-fired hot liquor tanks (HLT) and brew kettles equipped with PKW's proprietary internal calandria
All mechanical components provide infinite control and precise repetition to create an efficient brewing process
Designed with features and geometry to diminish oxidation, tannins, and diacetyls
Ergonomics and safety features:
PKW brewhouses are a breeze and pleasure to operate with no dead legs, redundancies or complicated processes to memorize
Control panel access and brew decks designed to minimize fatigue and create a safer working space
UL 508A-compliant electrical controls are accessible from the front of the brewhouse. Operators have immediate access to all functions including the system kill switch
Non-skid surfaces provided on all operator work platforms
PKW Hopmaster 3.5 to 10 Barrel Brewhouses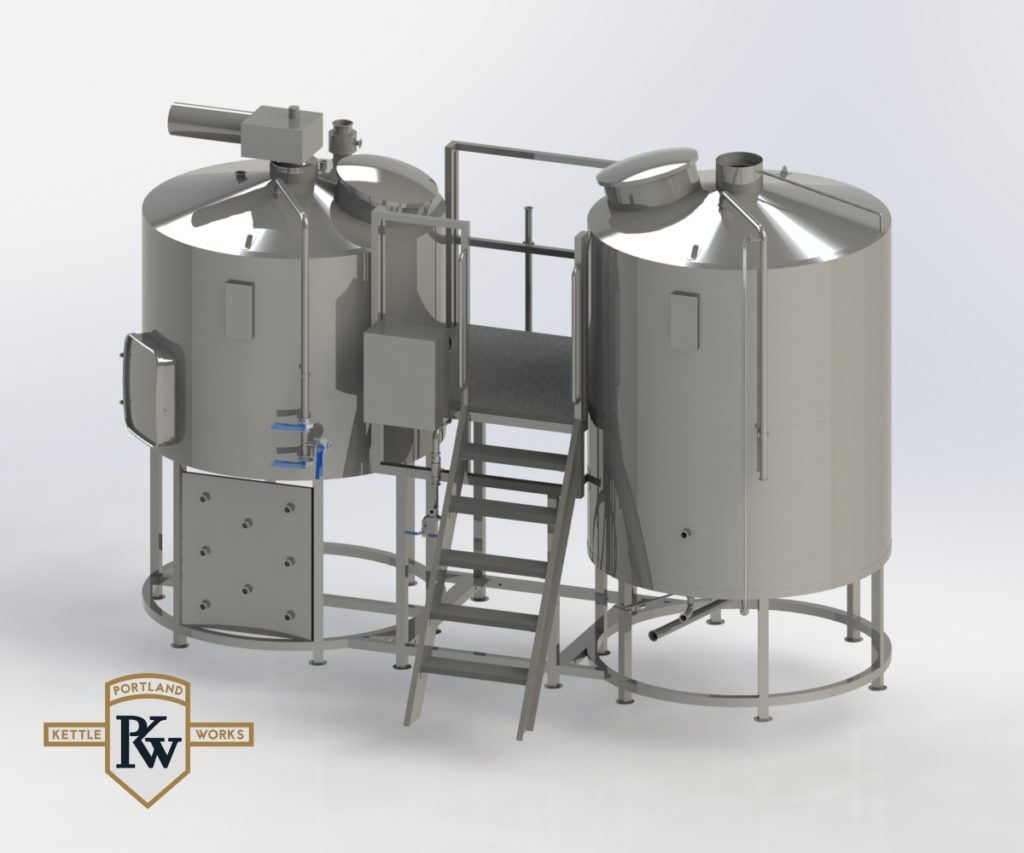 PKW Hopmaster 3.5 to 10 Barrel Brewhouses
---
---
---
Portland Kettle Works was founded in 2011 to build the highest quality stainless steel brewing and beverage equipment applications. Since then we have built and installed over 300 breweries worldwide. Our craft brewers are among the best of the best and they have the gold, silver and bronze medals to prove it. If you're serious about craft brewing as a business, contact us and we can help you, too. And if you're located in Mexico or Latin America, click here to visit our Spanish language site.