What Are Dry Mixing and Storage Tanks?
Dry mixing and storage tanks must be able to deal with solid particles in a variety of forms: powder, granular, pellet, aggregate and more. Typically requiring a higher power mixing drive, stainless steel is ideal for these tank applications. Non-sticking, easy to clean, easy to sterilize, available in standard and custom sizes, Mixing Tanks USA specializes in stainless steel tanks – it's all we do. If you need high-quality stainless steel dry mixing tanks for your application – one, ten, one hundred or more – we can build them for you.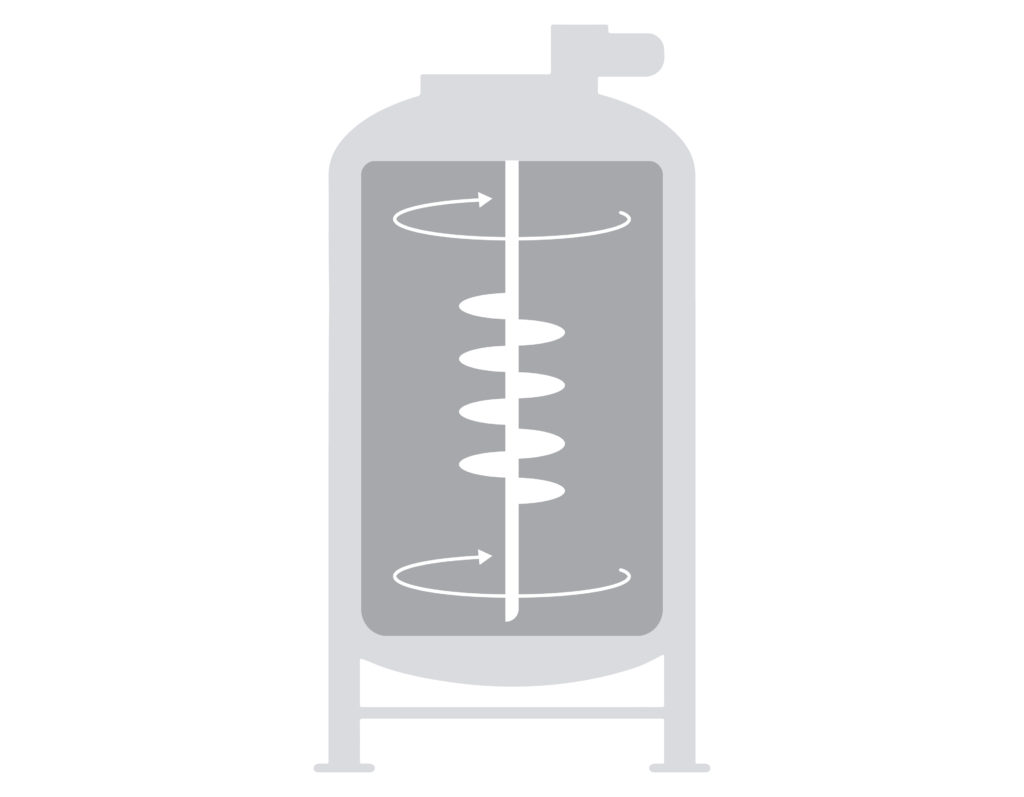 All mixing Mixing Tank USA dry mixing tanks are customized to your specifications and manufactured according to the following criteria:
Size and geometry
Material granularity
100% sanitary interior welds.
Ease of cleaning (CIP) for fast and efficient cleaning operations
Mix impeller size and quantity
Mix with a set speed or variable speed according to your requirements
Mix with impeller motion in one direction or agitating according to your requirements
Mixing Tanks USA Dry Mixing Tanks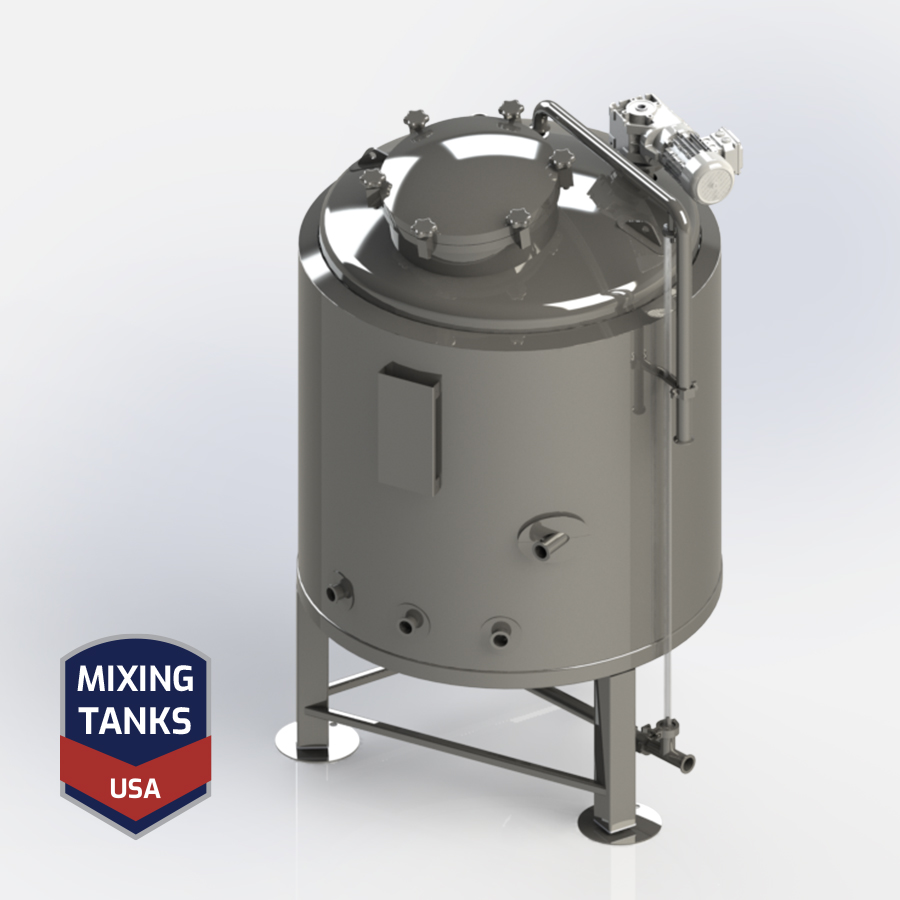 Mixing Tanks USA Dry Mixing and Storage Tanks
All Mixing Tank USA dry mixing tanks are:
Manufactured from high grade, heavy-duty hot forged American made 304 and 316 stainless steel sheets
Cold-rolled and hand-welded in our state of the art factory in Portland, Oregon USA
Pressure tested and passed through continuous quality control measures
Delivered with a three-year warranty against manufacturing defects
Below is the basic dry mixing tank design produced by Mixing Tanks USA. Contact us and we'll help you analyze your needs to produce tanks perfect for your application. We provide solutions!
Mixing Tank USA Dry Mixing Tanks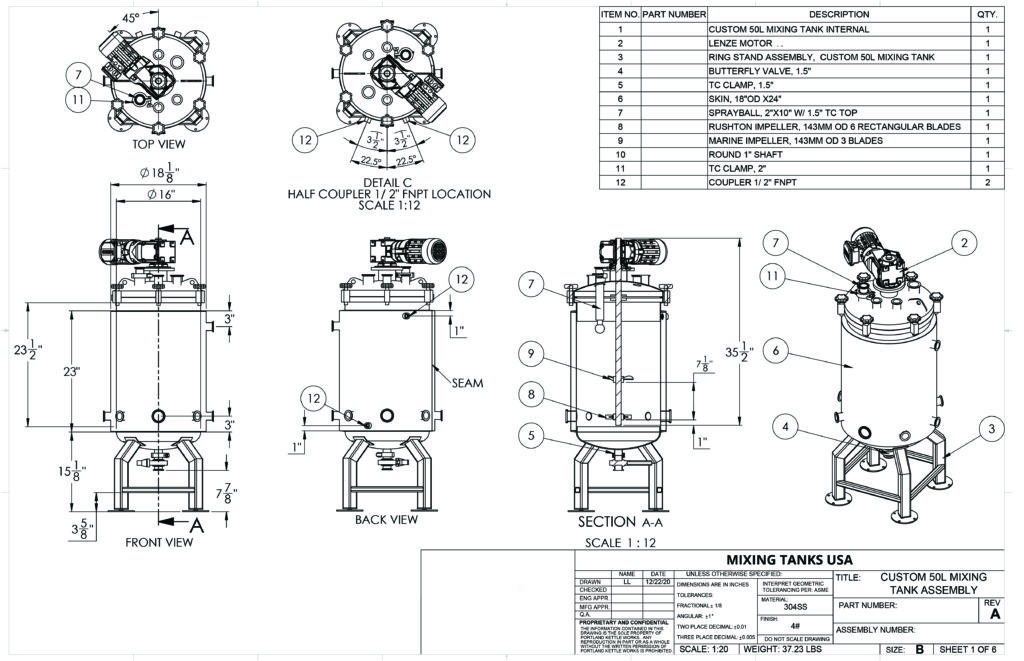 Mixing Tanks USA Dry Mixing Tanks
Plus, if you need a special dry mixing or storage tank, don't be afraid to ask. Our engineers, designers and master craftsmen are completely up to the challenge. No matter what you require you will not find higher quality stainless steel tanks or a better team to build them than Mixing Tanks USA.
And supplying you with the best stainless steel mixing and storage tanks is just the start. We then support your business as it grows and changes. We are your partner for the long haul. So, become a Mixing Tanks USA client and you can experience our industry-leading support and success year after year.
---
---
---
MixingTanksUSA is a business unit of Portland Kettle Works ("PKW"). Portland Kettle Works was founded in 2011 to build the highest quality stainless steel brewing and beverage equipment applications. Since then we have built and installed over 375 breweries and thousands of mixing and storage tanks worldwide. We've now expanded into producing the highest quality mixing and storage tanks for a variety of applications. If you need high-quality stainless steel mixing and storage tanks for conventional or custom applications, contact us and we can help you, too. And if you're interested in the world's best stainless steel craft beer and beverage brewing equipment, Made in the USA, click here to visit Portland Kettle Works official brewing equipment website.