Hop Diablo is the perfect solution for new breweries, brewery expansion or restaurants and bars that want to produce a unique craft beer that is only available in them.
The design of PKW Hop Diablo is based on our experience in developing more than 4,000 craft beverage containers, as well as launching more than 375 new breweries worldwide since 2011. Our customers enjoy award-winning results across all beer styles around the world.
The Hop Diablo is a 2 barrel (235 liter) brewhouse, offered in direct fire, steam or electric models.  Hop Diablo is the new standard for recipe creation and indexing in the brewery industry. From our manufacturing facilities in Queretaro, Mexico and Portland, Oregon USA, we serve award winning clients on 5 continents.
Portland Kettle Works brewhouses have earned a reputation as one of the best performing, efficient, and eye-catching breweries to be found anywhere. Our breweries will shorten your day and save you money for years to come.
All Portland Kettle Works breweries offer the brewery several key benefits:
KettleMaster AUTOMATION PLC/HMI controls that store recipes for exact repeatability
Standard modular skid for easy of transport and installation
Minimum 140% Brew Kettle Capacity
Industry leading geometry that allows for high efficiency brewing across every style of beer
Skid mounted on casters designs on a standard standard 2 vessel platform
Standard Swing link manifolds
Standard Internal steam clandrias
Variable Speed Pump(s) controlled by Lenze Variable Frequency Drives (VFD's)
Standard Clean-In-Place CIP facilities in all vessels
High performance Lauter Tun Screens
Integrated and intuitive sanitary piping
Convenient
working height from floor grade
Open top Brew Kettle
User friendly sample ports
Integrated pump and plate chiller loops
High accuracy flow meters and automated shut off systems
Portland Kettle Works Hop Diablo Micro-Brewhouse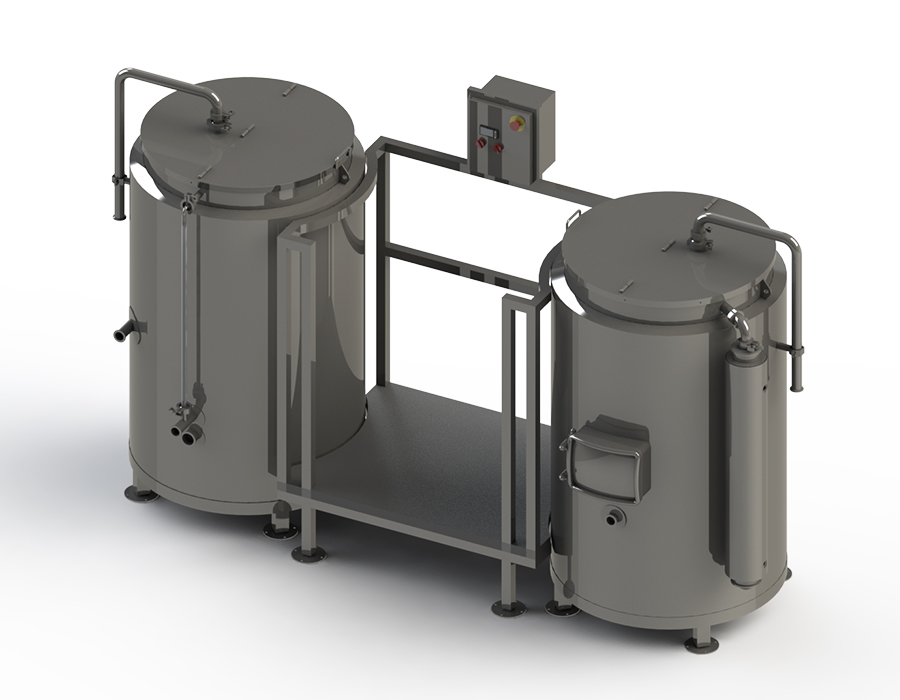 Portland Kettle Works Hop Diablo Micro-Brewhouse
---
---
---
Portland Kettle Works was founded in 2011 to build the highest quality stainless steel brewing and beverage equipment applications. Since then we have built and installed over 300 breweries worldwide. Our craft brewers are among the best of the best and they have the gold, silver and bronze medals to prove it. If you're serious about craft brewing as a business, contact us and we can help you, too. And if you're located in Mexico or Latin America, click here to visit our Spanish language site.